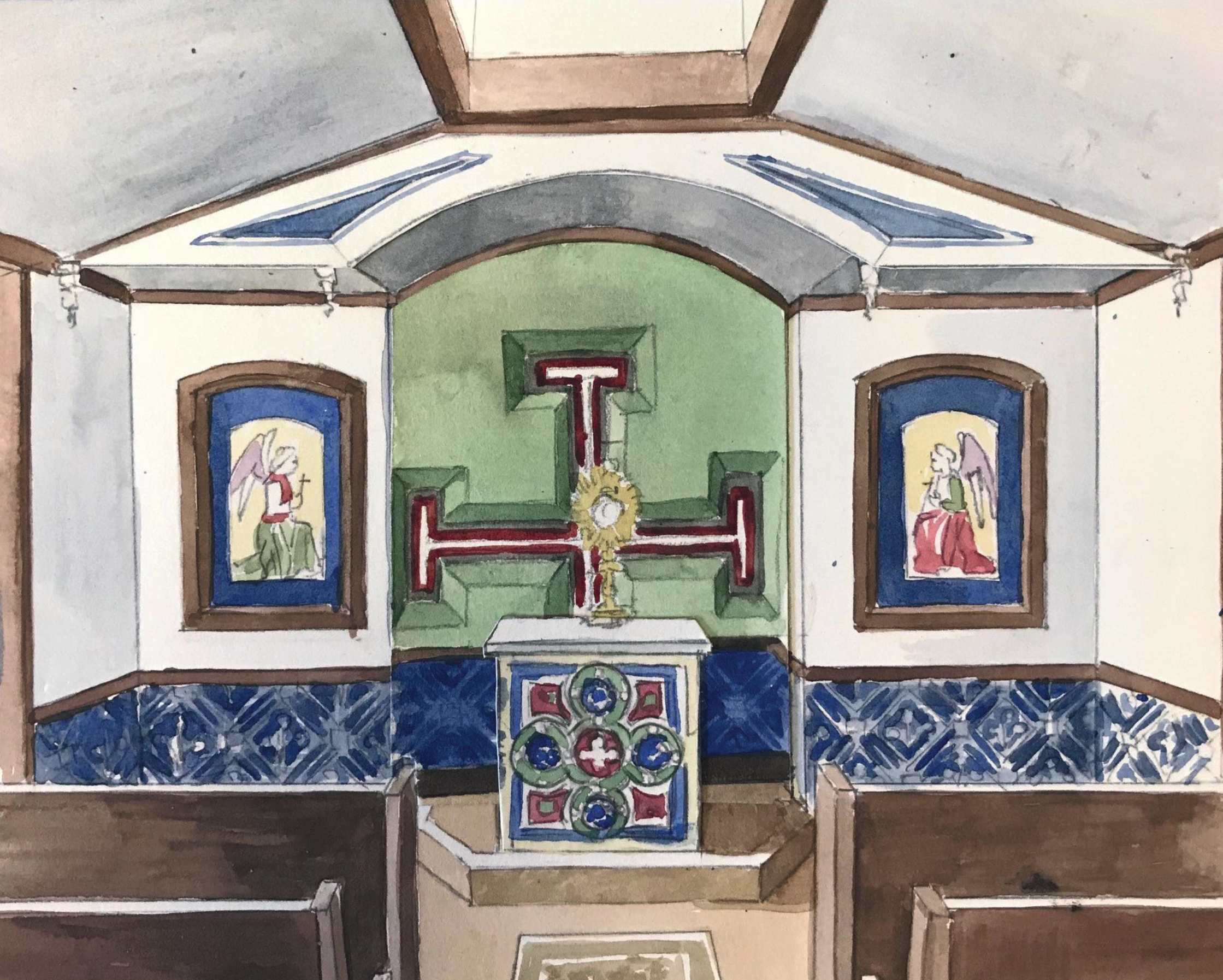 Dear Parishioners of St. James the Less,
Over 12 years ago, perpetual adoration of the Most Blessed Sacrament in the Lumen Christi Chapel of St. James began. Since then, dedicated hours upon hours have been spent by you praying before Our Lord in the monstrance. Our chapel is a gift to all of us at St. James and to the whole community – a haven of peace and hope!
It is, however, in need of refurbishing and updating after all these years. A new coat of paint, stenciled design, murals of adoring angels, and a mosaic to complete the altar will give it a fresh and renewed look and enhance the environment for prayer. When we pray, it is good to surround ourselves with beauty. It helps us enter into the presence of God and marks the space as sacred.
I have asked Mr. Carl Fougerousse, a local Catholic artist, to assist us in this endeavor. When the chapel was first built, he was instrumental in the initial design and production of the tiled floor and the stained glass windows in the chapel. He will be implementing the design you see in this flyer.
Now is the time to refresh this space since the chapel has been closed because of the coronavirus. When we finish, we will reopen and resume perpetual adoration in our beautiful Lumen Christi Adoration Chapel.
Please prayerfully consider a gift to this campaign. Our goal is to raise $31,000 for this project. Even in this time we can build and produce something beautiful that will glorify God and assist us in growing in union with Him through adoration and prayer! From this chapel the Light of Christ will shine forth in you and through you! Thank you for your response to this project!
May the Light of Christ dwell always in your hearts!
St. James the Less, pray for us!
Sincerely yours in Christ,
Fr. Daniel F. Firmin

Wall Painting and Stenciling with Gold paint on Blue
Wooden Trim Work
Altar Mosaic
2 Angel Paintings
Drywall Work Modifying Niches
4 Free-standing Floor Candle Holders
Refinish Pews