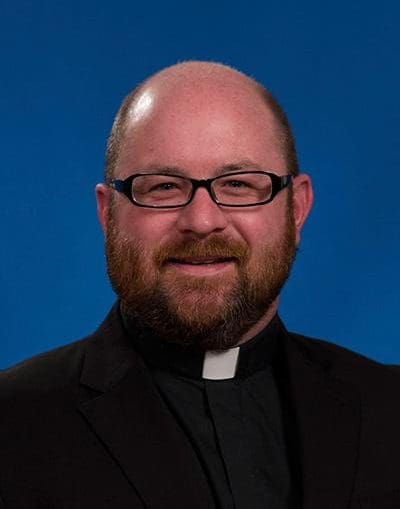 Reverend Daniel F. Firmin is the pastor of St. James and the Vicar General of the Diocese of Savannah.
Born in New Iberia, Louisiana in 1978 but raised in Augusta, Georgia, he is the oldest son of 9 children (two passed away in early childhood) of Michael and Beverly Firmin.
He earned a BA in Humanities and Catholic Culture from the Franciscan University of Steubenville (2000) and attended seminary at the Pontifical North American College in Rome, receiving his Bachelors in Sacred Theology (STB) from the Pontifical Gregorian University. He completed his Licentiate in Canon Law (JCL) at The Catholic University of America in 2006.
He was ordained as a priest of the Diocese of Savannah on June 5, 2004.
After his priestly ordination, his assignments have included the following:
Parochial vicar at St. Joseph Catholic Church in Macon, GA (2004-2006)
The Catholic University of America in Washington, DC (2006)
Chancellor (2007-2013) and then Vicar General (2013-present) for the Diocese of Savannah, in residence at the Cathedral of St. John the Baptist in Savannah, GA
Parochial administrator at St. Michael parish on Tybee Island, GA (2017)
He was appointed pastor of St. James the Less on August 1, 2017.
He serves on the Diocesan Council of Priests, the Diocesan Finance Council, and several other boards representing the diocese. Among his other duties, he is the Spiritual Assistant of the Secular Order of Discalced Carmelites in Savannah and Chaplain to the Savannah College Campus Ministry. He is a member of the Canon Law Society of America.
His favorite sports are soccer, college football, and darts. He enjoys throwing darts in the Savannah Area Darts Association League.